Musical Theatre Class
Coming in Spring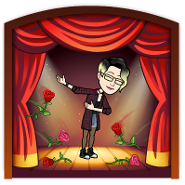 The idea for this class is tomake a mini-musical based on students song choices and create a story where they all fit together somehow. It will be fun and quite unique! I will guide you as the director, but I want class participation in the creative process. You all have great ideas, so let's do this together as a group! I do expect you will all be in touch with each other outside of class throughout the 10 weeks.
The BRAINSTORMING class will be on Tuesday January 29th. You will introduce your songs, we'll figure out the key, etc., and we'll come up with a theme. This will give you time to work on your song/songs and colaborate with fellow students over the next couple weeks before official class starts. That way we can start rehearsals first class prepared to go!

Class officially begins on February 19th. Dress rehearsal will be on April 2nd. Showcase on April 9th. Joining us for the Showcase will be the students from my other classes as the opening act. The mini-musical will close the show.

The class will consist of lecture, staging and voice lessons focused on Musical Theatre style of singing and performing. To get the most out of this class, additional rehearsals are available by arrangement. Showcase performance will be on a stage. Yay! On Tuesday April 9th in the evening.
TUESDAY EVENING: 6:45-9:00 PM -- (8 seats left)
January 29th - Brainstorm Class
(February 5th possible bonus class based on enrollment)
(February 12th - no class)
February 19th - Official Start Date
February 26th
March 5th
March 12th
March 19th
March 26th
April 2nd - Dress Rehearsal
April 9th - SHOWCASE
Note: Additional expenses may include private rehearsals if needed by arrangement, costuming, props, and splitting the cost of the venue rental. We'll do our best to keep extra costs to a minimum and ask our guests for a small donation at the door to help cover our expenses.
Singing voice lessons in Rohnert Park, Sonoma County, near Cotati, Petaluma, Sebastopol and Santa Rosa.