ZingliZh Singing Class Registration and Information
Our Summer SHOWCASE will be held at my home on Sunday August 12th.
SUMMER CLASSES 2018:
Beginner Singing Classes
Beginner Classes, (4 min 8 max) $99.00 This classes uses recorded music for background, or you can bring your own instrument. * Price includes one private 1/2 hour lesson. You can make up a class by attending another class during the same semester.
TUESDAY EVENING: 6:45-9:00 -- (8 seats left)
June 12th
June 19th
June 26th
July 3rd
THURSDAY AFTERNOON: 12:45-3:00 PM (8 seats left)
June 14th
June 21st
July 5th
July 12th
THURSDAY AFTERNOON Part 2: 12:45-3:00 PM (8 seats left)
July 19th
July 26th
August 2nd
August 9th
Intermediate Singing Classes (Open ONLY for student who have

completed

a beginning class.)
Wednesday Evening SINGING WITH GUITAR Class, 6:45-9:00 $189.00 You may accompany yourself. Or Guitarist Bruce Loring will accompany you. Returning students from last semester get a free 1 hour lesson! I appreciate your devotion!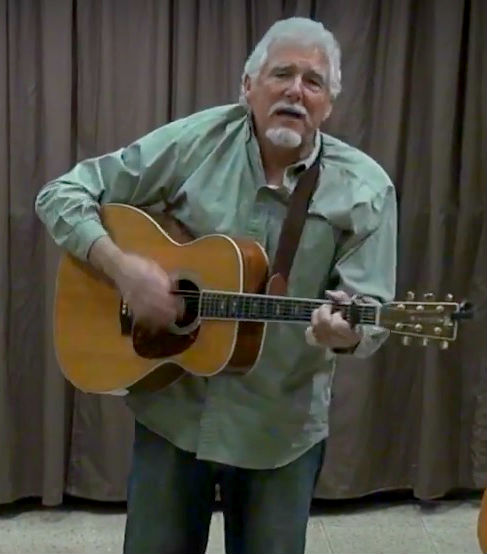 WEDNESDAY EVENING: 6:45-9:00 -- (5 seats left)
June 13th
June 20th (Bruce gone)
June 27th
July 4th (NO CLASS)
July 11th (Bruce gone)
July 18th
July 25th
August 1st
August 8th
Thursday Evening Intermediate Class, 6:45-9:00 $189.00 You may accompany yourself. Or we can used recorded music. Any style of music welcome! Returning students from last semester get a free 1 hour lesson! I appreciate your devotion!
THURSDAY EVENING: 6:45-9:00 -- (6 seats left)
June 14th
June 21st
July 5th
July 12th
July 19th
July 26th
August 2nd
August 9th
SUMMER SHOWCASE WILL BE for any students wanting to perform.
SUNDAY August 12th - 2:45 Pot Luck - THE SUNDAY SHOW and Party! This will be a casual fun event at my home.
Specialty CLASSES & WORKSHOPS
Specialty classes are created by the interests of the students. The dates will be selected when I have at least 4 students who are available on a given day. Pay by check or cash.
Ear Training and Harmony -- Two Day Saturday Workshop
Ear Training and Harmony -- Introduction to Basic Concepts for Singers
12:00-4:30 with 1/2 hour lunch break at 2:15-2:45 (8 seats left) $99.00.
Do you know people who can "naturally" harmonize? Do you wish you could, but have no idea how to begin? I'll teach you the basics so you can do it, too. Must already be able to match pitches easily. You'll learn how to hear the notes in a chord, improvise a melody line within a basic chord structure and then apply harmony to that melody. No sheet music. No sight reading of harmony lines. You will learn to do it by ear in the moment. Make it up as we go! This is a two day workshop.
TWO SATURDAY DAYS: 12:00-4:30
Introduction to Songwriting Workshop $49
Are you clueless about how to even begin to write a song? Perhaps you play an instrument and would like to put some lyrics to some chords, or maybe you already have poems or lyrics and want to put them to music. In this class we'll create some simple songs, perhaps even add some harmonies to the chorus. No music reading skills needed as this will be a beginning class using improvisation with simple chords progressions.
Date Saturday -- TBA
12:00-4:30 with 1/2 hour lunch break at 2:15-2:45 (8 seats left) $49.00.
Introduction to Classical Technique & Opera Workshop $49
Am I a soprano? A tenor? What the heck does all that mean? And how is that singing different from other styles? Will this help increase my range? Come find out in this 2 hour introductory workshop. You will learn vocal coordination, jaw, tongue, breath support, larynx position, formants, resonance, for singing Opera correctly, and learn a few exercises and have a one-on-one personal assessment of your voice with an Opera Singer and Teacher from England. Have a song you are already familiar with.
Saturday TBA 11:45 AM - 2 PM (5 seats available)
One Day Grit/Rasp Workshop $49
Ever wonder how to do those raspy or growly sounds you hear from contemporary singers? Are they totally thrashing their voices? Not if it is done correctly. This workshop will feature a rasp specialist from England, Aliki Katriou. You don't want to miss this!
Saturday

TBA

11:45 AM - 2 PM (8 seats available)
One Day Applied Grit/Rasp Workshop $49
This is for students who have already taken the grit/rasp class, understand the basics and want to apply it to songs. This workshop will feature a rasp specialist from England, Aliki Katriou.
Saturday

TBA

11:45 AM - 2 PM (8 seats available)
I accept PayPal, or pay with your Credit Card without having a PayPal account.
If you prefer to pay with cash or check: Please contact me to arrange payment in person to hold your seat in the class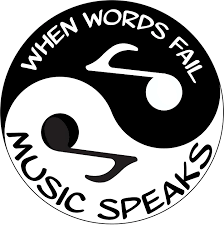 About The Classes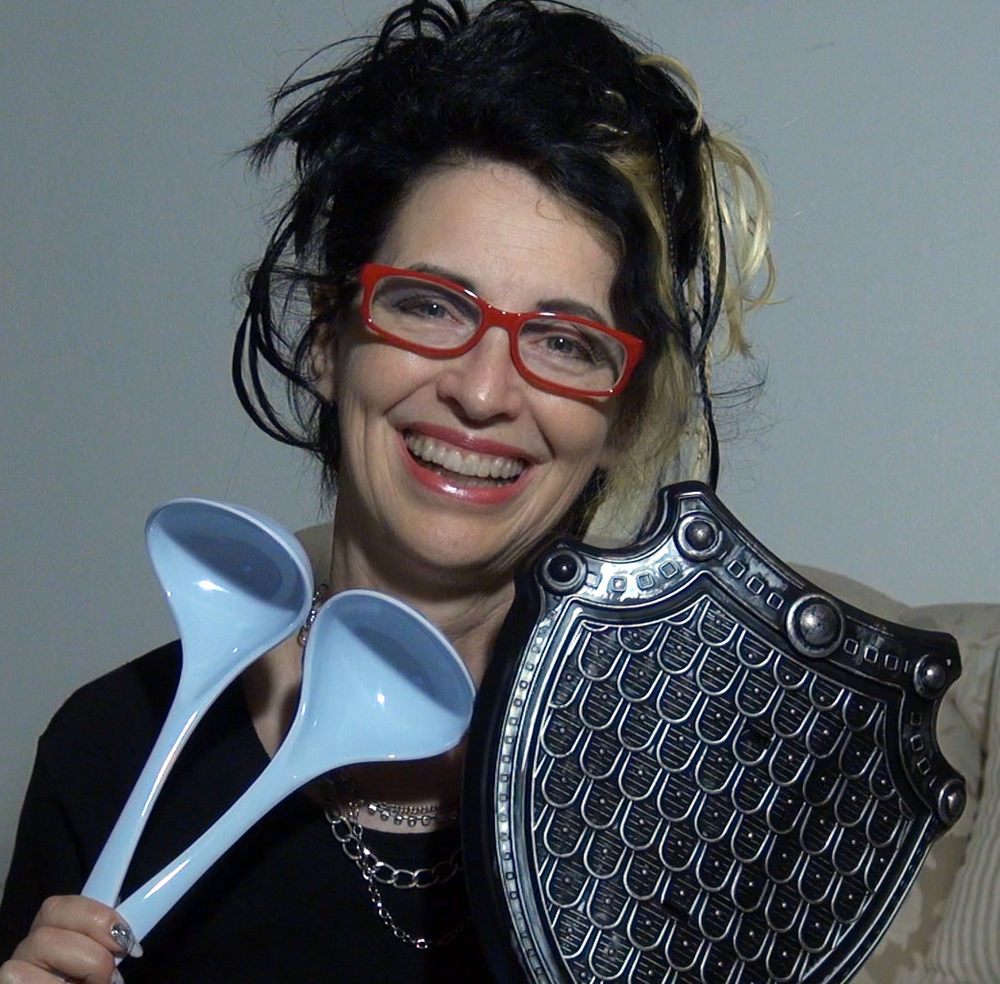 Regardless of your singing skills at the present time, the classes are held in a private residence in Rohnert Park, CA. This is a safe fun place to get to know, or to improve or free up your voice. The house is easy to find as you can't miss my colorful pink and green Honda in the driveway. Maybe you've seen it around town?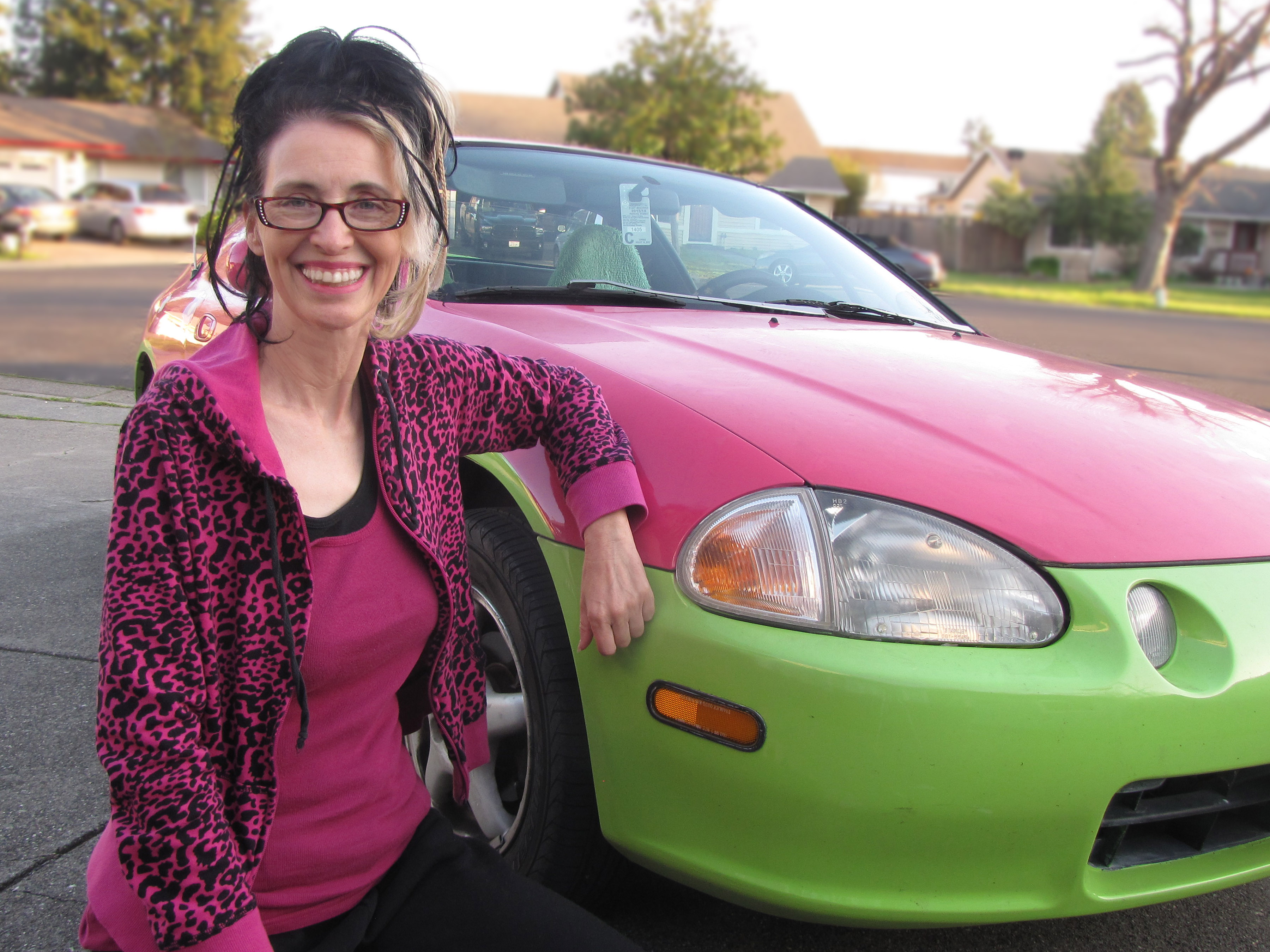 I am a certified voice technician as well as a contemporary vocal coach. I teach based on how the body/vocal instrument works, dealing with the specific muscles you are using to sing. I will teach you some basic anatomy so you know what's going on in there! AND make it EASY for you to sing. I can also help you prepare a song for performance.
Class tuition for regular beginning adult classes includes a 30 minute private voice lesson and is good until the last day of that semester. This is to give you a little one-on-one time. But you do need to use it before the last class as it does expire.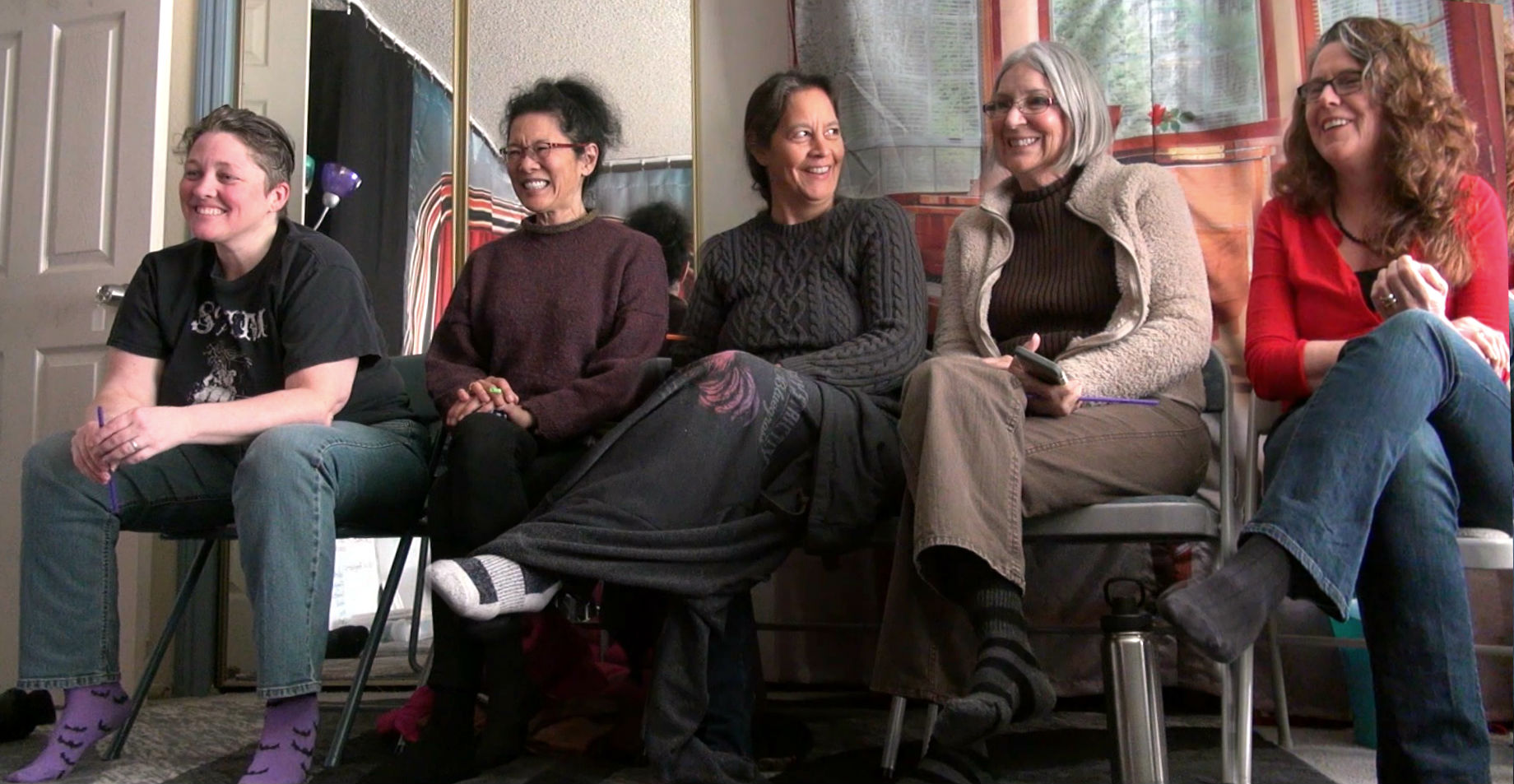 And we do a lot of laughing! My goal is to make it fun. I love using visuals and to help you learn by doing. Don't be surprised to find balloons, straws,soup ladles, a shield, rubber bands, a turkey baster, and a very cool vintage 1987 Yamaha Keytar as part of my teaching toolbox. You might even learn a few vocal tricks from Mickey Mouse and Scooby Doo!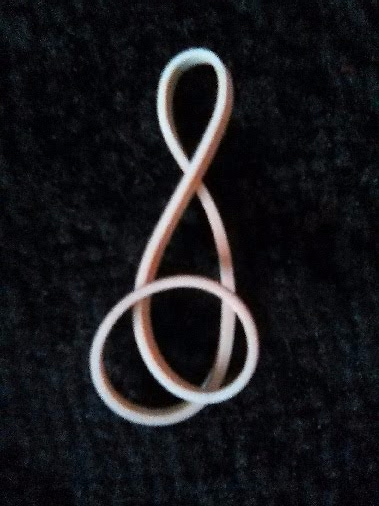 I often use a rubber band to show students how the vocal cords stretch. A funny thing happened one private lesson when the rubber band flew out of my hand and landed on the floor in the shape of a Treble Clef. Wow! That was amazing. I excitedly told the student." Look! My vocal folds turned into music!" And so they do!
Class Format
At the start of each class, we spend a few minutes sharing stories about singing related subjects experienced, or noticed, outside of class. There is a short lesson planned for each class, but after that, what will be taught is determined by student questions and individual needs. I often will start or end class with group singing because it's just so much fun to sing together!
Sometime beginners aren't yet comfortable singing by themselves in front of other people, and that's okay. In my beginning classes, you are never put on the spot to sing alone unless you want to. It is always your choice. Singing should be fun and not intimidating. It is valuable, however, for me to hear just your voice so I can help with your instrument's specific needs. The intermediate students, even though the stage fright is still there, will be asked to sing solo. People are encouraged to bring an instrument, like a guitar, uke, or we can use recorded music. Currently, the accompanist for my intermediate class is Bruce Loring.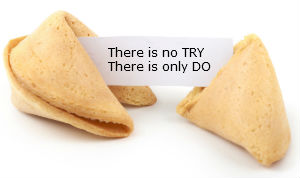 Toward the last classes, I introduce a little bit about song writing and we do some improvised singing where we make up a song or two. I also touch briefly on harmony, what it is, how to do it, and a bit of ear training. (Special workshops are offered on ear training, harmony and songwriting.)
I won't have you do generic scale exercises, but instead do melodic isolation exercises which work specific muscles of the singing instrument to gain strength, flexibility and control. I will create specific exercises just for you based on on what you need at the time. You will be surprised what your voice can do with ease once you know how.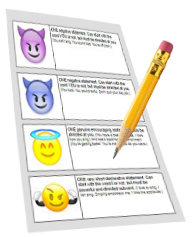 Having a song or two to work on can be a good learning tool. Some students do a different song each week. Some do the same song because they are working on something for a performance, maybe church or a wedding, and would like specific feedback on that song. Maybe you are a songwriter and need help coming up with a melody or interpretation.
I also work on stage fright and we do some powerful, but playful games to help deal with our insecurities.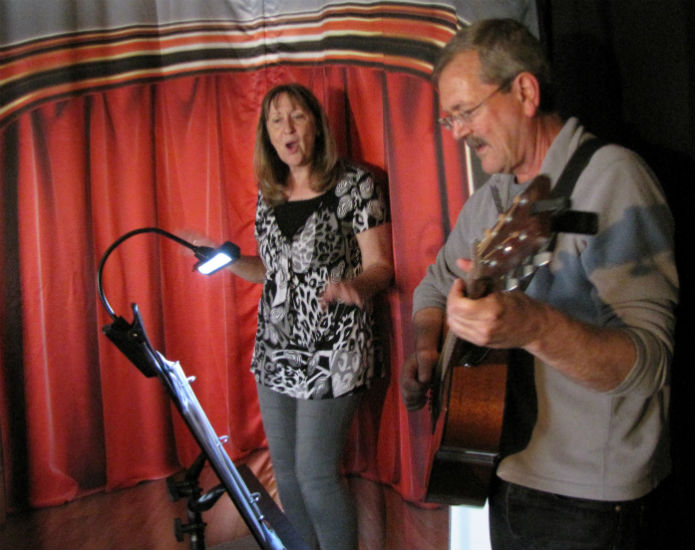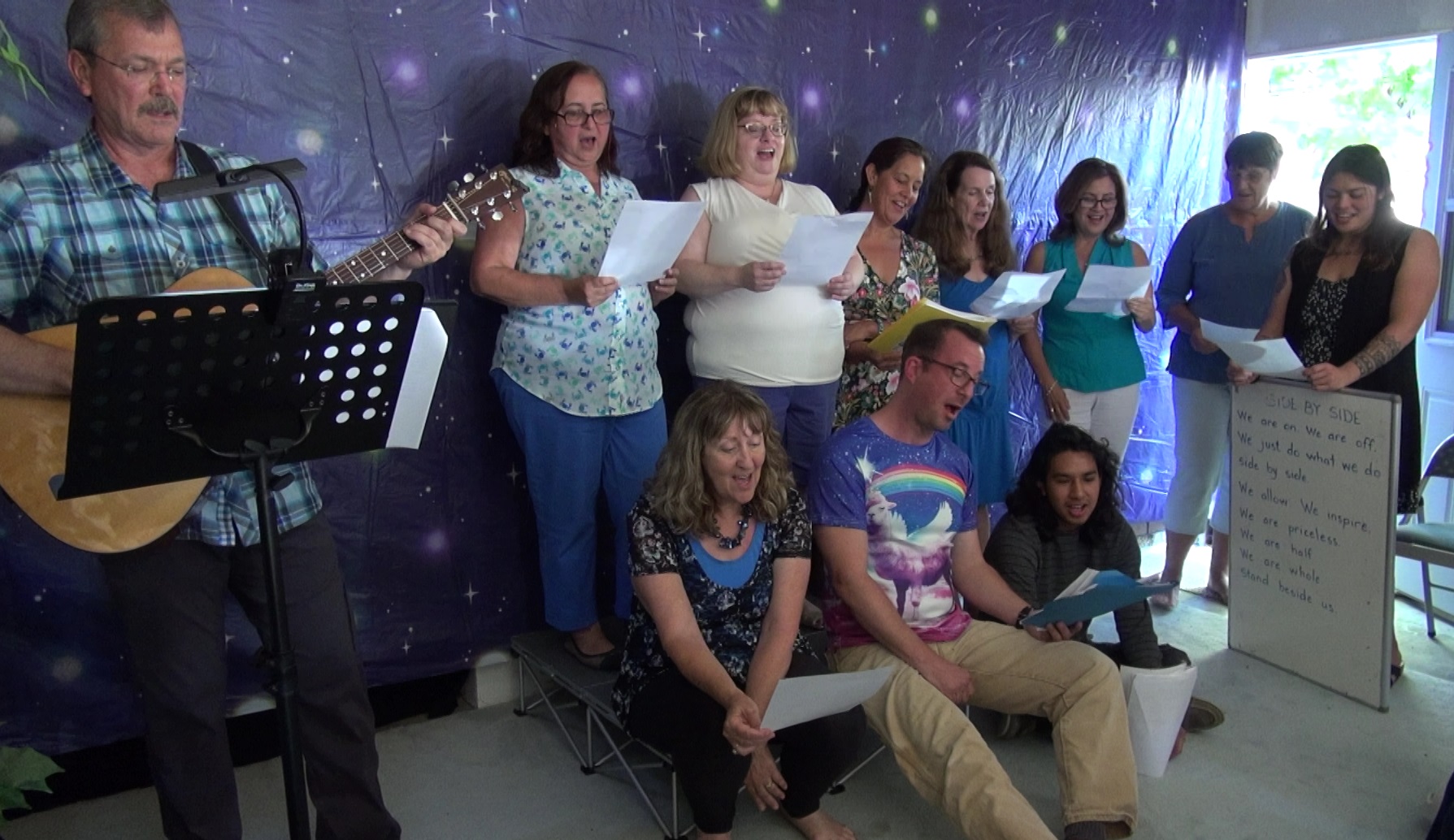 This is the type of class you can take over and over again, as each class is based on the needs of each student in attendance. Every person has different challenges and different goals and we give ample class time to those issues. Most students repeat the beginning/intermediate several times. Hearing similar information with your singing skills at higher level, feels like whole new information! It is an affordable way to get some basics, and then add private lessons or the workshop classes.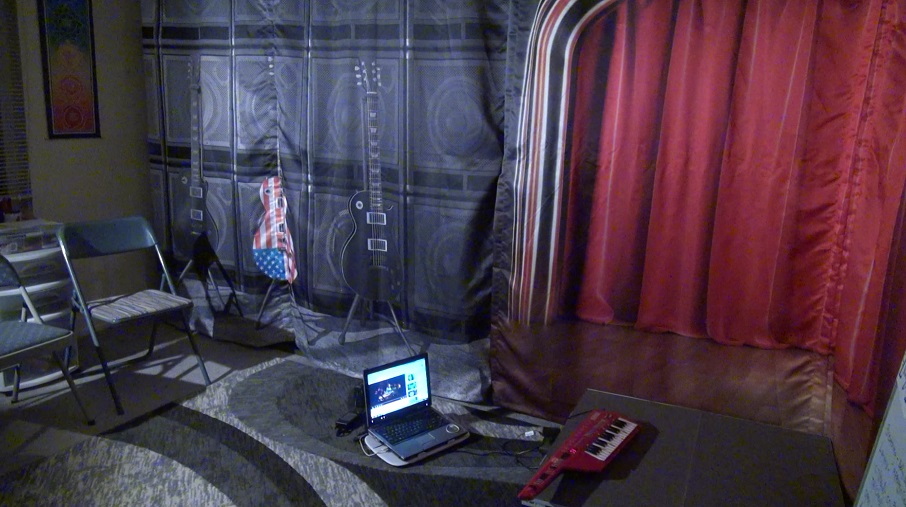 I have decorative curtains around the room to create a fun atmosphere, one looks like a piano, one a wall of guitar amps, and the other looks like a stage curtain. It's a way to engage the "pretend" part of you to keep the class fun and lighthearted. Much easier to learn if you are having fun. I even have a small platform you can stand on if you want to. It's up to you. You can always just sing from your seat (but it really is fun to stand on the "stage.")
The performances classes end with a showcase and may even include a karaoke party!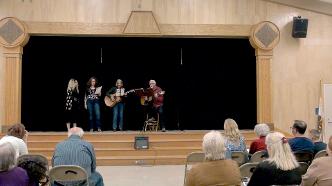 Enrollment is non-refundable. If you drop the class or stop attending at any point, you will not receive a refund or credit. If the class is under-enrolled and is cancelled, you will receive full credit which you can use toward another class or private lessons.
On the flip side, if classes are full, I often add another date as a freebie! (It's just like Chinese food dinners: with 6 you get egg rolls! ) Also, you are welcome to make-up a class by sitting in on one of my other class times.
Returning Intermediate Students receive a free 1 hour private lesson if you repeat a regular class in a consecutive semester. I appreciate your dedication!
All Beginning Student receive a free 1/2 hour private lesson.
Also: Drop-in rate is $35 per class. Ask me!
Classes are small and a lot of fun, 4-8 students, so you get personal attention without intimidation. The length of a class is roughly two hours and 15 minutes. (Yeah, sometimes we go over a bit if we are really into something cool!)
We meet mostly every week but sometimes there is a holiday or special circumstance which means a skipped week, so check the dates carefully. I will always remind you and send an email.
Specialty classes are usually one day, on a Saturday with a lunch break (bring your own bag.)
--> View Calendar <--
Singing voice lessons in Rohnert Park, Sonoma County, near
Cotati, Petaluma and Santa Rosa.