Beginners Singing Lessons Classes
ON-LINE CLASS Coming Spring 2022 TBA
You Wish You Could Sing Better - On-Line Introductory Class $98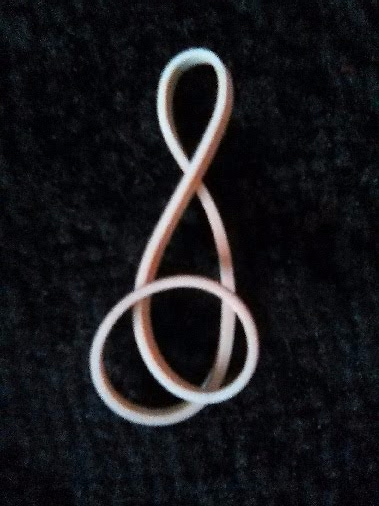 My goal is to make it fun. I love using visuals and to help you learn by doing. I often use a rubber band to show students how the vocal cords stretch. A funny thing happened one private lesson when the rubber band flew out of my hand and landed on the floor in the shape of a Treble Clef. Wow! That was amazing. I excitedly told the student. "Look! My vocal folds turned into music!" And so they do!
Voice Lessons- Back to Basics - In person class ON HOLD due to Covid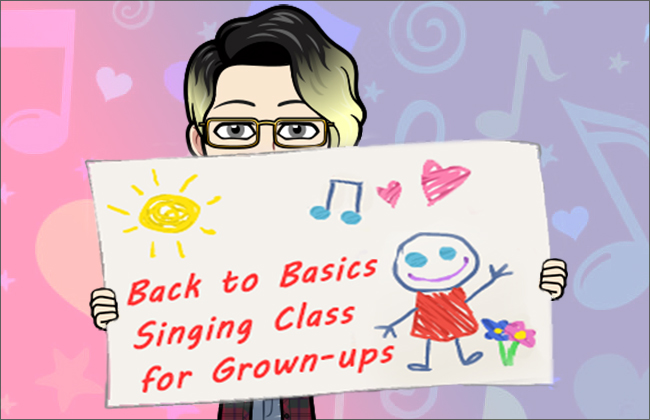 If you are new to taking my classes, I'd like to explain what to expect. The classes are held in a private residence in Rohnert Park, CA. This is a safe fun place to get to know, or to improve or free up your voice. I cover vocal anatomy information in all my classes to a varying degree as it is the foundation for everything I do. I will clarify some of the differences between contemporary and classical singing techniques as well. The start of each class, there are lessons, terminology, demos and QnA. After that I give mini private lessons for each student who wants to sing, and the class can observe and learn.
Toward the last classes, I introduce a little bit about song writing and we do some improvised singing where we make up a song or two. I also touch briefly on harmony, what it is, how to do it, and a bit of ear training. (Special workshops are offered on ear training, harmony and songwriting.) We do a lot of laughing along with learning! I often will start or end class with group singing because it's just so wonderful to sing together!
Having a song or two to work on can be a good learning tool. Some students do a different song each week. Some do the same song because they are working on something for a performance, maybe church or a wedding, and would like specific feedback on that song. Maybe you are a songwriter and need help coming up with a melody or interpretation. If you play an instrument, bring it. Or pick a song that we can find a background (like karaoke) instrumental for you to sing to. No need to bring sheet music unless you want to.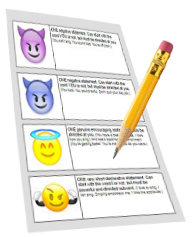 What I won't do: have you do generic scale exercises. What I will do instead is create melodic isolation exercises which work specific muscles of the singing instrument to gain strength, flexibility and control. I will create specific exercises just for you based on on what you need at the time. You will be surprised what your voice can do with ease once you know how.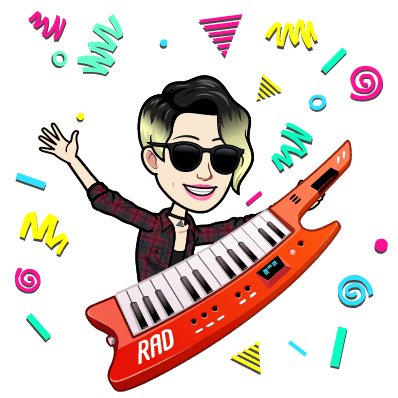 I am not a pianist, so I won't be accompanying you on some big piano. I will, however, play the notes of the exercise on my awesome 1987 vintage Yamaha Keytar. How cool is that!
I also work on stage fright and we do some powerful, but playful games to help deal with our insecurities. Sometimes beginners aren't yet comfortable singing by themselves in front of other people, and that's okay. You are never put on the spot to sing alone unless you want to. It is always your choice. Singing should be joyous and not intimidating. It is valuable, however, for me to hear just your voice so I can help with your instrument's specific needs.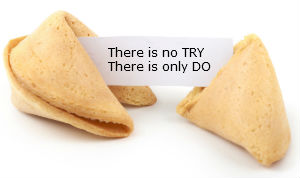 My goal is to make it fun. I love using visuals and to help you learn by doing. It's like vocal kindergarten. Don't be surprised to find balloons, straws, soup ladles, a shield, rubber bands, a turkey baster, paint swatches, fortune cookies and candy as part of my teaching toolbox. You might even learn a few vocal tricks from Mickey Mouse and Scooby Doo!
Each class is based on the needs of each student in attendance. Every person has different challenges and different goals and we give ample class time to those issues. Most students repeat the classes. Hearing similar information with your singing skills at higher level, feels like new information! It is an affordable way to get voice lessons.

I have decorative curtains around the room to create a fun atmosphere. It's a way to engage the "pretend" part of you to keep the class playful and lighthearted. Much easier to learn if you are relaxed and laughing. You can always just sing from your seat (but it really is fun to be on "stage.")
People are encouraged to bring an instrument, like a guitar, uke, or we can use recorded music. I like to have a Showcase at the end of each semester with students in ALL of my classes. You may participate if you choose to, or just come and support the other students. Family and friends are welcome to come.
Singing voice lessons in Rohnert Park, Sonoma County, near
Cotati, Petaluma and Santa Rosa.