Coming Fall 2023
The series consists of four 3-hour sessions over a 4 week period. Each session focuses on a different aspect of the recording process. Two choices: limited to 4 recording artists, but all attendees welcome. Deposit due to hold your seat. Remainder due by the first class meeting.
Zoom Class Attendee: $149 ($49 deposit)
Zoom Class Plus Recording Artist Two Song Demo: $499 ($149 deposit- Limited to 4)
The observation portion of the class will be held via Zoom. Private recording session for the 4 artists will be at J Dog Studio in Sebastopol, CA with musician and recording engineer John Simon (about John.) Singers will be in the studio one at a time with cleaning between sessions. All students get to watch all the recording sessions which will be broadcast via Zoom.
For the recording artist: You may play your own instrument and/or have John create professional music tracks. Drums, bass, strings, mandolin, piano, horns, etc. Also includes vocal coaching during the recording session and two 45 minute private vocal sessions outside of class time. You may also book additional time with either John or Tamis for an added fee.
Session #1 Via Zoom
Introduce you to the fundamental technical aspects of recording (microphone technique, iso booths, dubbing, mixing, mastering, etc.)
Set the arrangement and key of the 2 songs you will be recording.
Session #2 by Appointment for the singer. Class viewing via Zoom
Recording. This session is intended to lay down the perfect rhythm track (piano, bass, drums or any other instruments) as you sing a "scratch" vocal track. You will go home from this session with 2 versions of each of your songs - one with your vocal as recorded during the session; one with just the music track for you to practice to during the week.
Session #3 by Appointment for the singer. Class viewing via Zoom
Re-recording your part. You might decide during the week that you want to redo the entire "scratch" track from last week, or you might want to keep most of it but change a few places. That is called punching. We will use this session to get you the best vocal track.
Session #4 Class viewing via Zoom
Mixing. This session is used to combine everything into a final product. If you need to make a few final corrections, we will do this. Learn about mixing: compression, equalization, adding effects (such as reverb) and more. The singing participants will receive a master copy of their 2 songs in digital form or on a CD.
About the Studio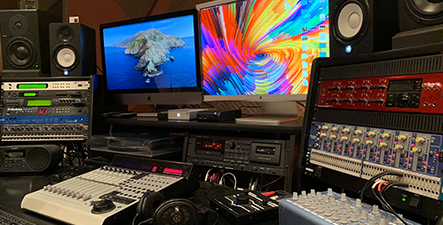 J Dog Studio accommodates projects large and small. From piano/vocal duos to complete rhythm sections accompanying vocals and horns. Up to 16 simultaneous inputs can be recorded in up to 24 bit, 192K sample resolution. With 24 mic inputs in the studio, setup for different recording configurations is possible. There is a very large arsenal of electronic instruments, including rack mounted synths and software instruments and synths. More studio information.