Affordable Singing Lessons for the Contemporary Artist
Private or Small Groups
Affordable singing lessons $40 an hour
Or $25 half hour mini-lesson
Semester Classes starting at $119
Workshop Classes starting at$45
Adults, Teens, Children, Seniors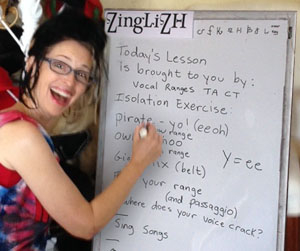 Groups - Individuals - Professionals - Beginners
Safe - Comfortable - Nurturing
Private or Group Vocal Instruction
Contemporary Vocal Styles:
Pop / Rock / Metal
RnB / Jazz / Folk / Country
Choral / Musical Theater
For Beginning Students:
Pitch - Rhythm - Interpretation - Body Language
Overcoming stage fright - Increase range
Projection - Resonance - Breathing

For More Advanced Students:
Song Writing - Lyrics
Stage Performance Skills
Stylizing - Riffs - Improvisation - Harmony
Timber & Tonal Coloring - Rasp - Belting
Larynx Positions
Resonance Adjustment
Control of Registers
Advanced Vocal Techniques
"When I read the description, I thought it would be ridged and structured, but it turned out to be really fun and I learned a lot!" –Martha
"I really appreciate your style and the safe environment you create." –Florentino
"Just wanted to thank you for being an amazing teacher! You're so compatible to work along with and extremely skilled." –Antony
"I love how you explain things, how it all works, instead of just telling us to do it. You have a real gift for teaching." –Audrey
"You're the first music teacher I've had that didn't yell at me." –Pam
"Your clear and practical approach was quite educational. You really helped me to have a better understanding of how the voice works." –Joy
Maybe it's stage fright. Or maybe you just want to sound better at Karaoke or feel comfortable singing Happy Birthday. Or maybe you sing in a band and your voice gets tired after a few songs. Does your high range sounds thin, or does your voice crack? Even if you feel you can't carry a tune, or are clueless about music, that's okay.
This is probably different than other techniques you may have experienced from other teachers. I don't give you generic warm-ups or scales, but instead I design isolation exercises especially crafted for your individual instrument. These unique exercises are based on your needs at the moment: perhaps to break an old habit or to work specific muscles of your singing instrument to gain strengthen and flexibility.
Immediate results happen because I teach based how the body/vocal instrument works, so you know what's going on in there and we can fix it! All very fun stuff, and educational, too. You'll learn why I call it ZingliZh... And what's with the shield and soup ladles?
About The ZingliZh Classes
The group classes are a combination of both vocal coaching and singing lessons. In other words, you will learn singing techniques and then apply what you learn to a song. We will do this as a group and those comfortable singing by themselves have the option to have a mini-session, a few minutes of individual coaching like we would do at a private lesson. This is not required, but it is very beneficial to you as it allows me to design exercises specifically for your unique vocal challenges. It is also wonderful to hear other singers and experience how the one-on-one coaching immediately improves their singing. I find this to be an encouraging and bonding experience and not as scary as one might think.
Group classes are primarily every week, but sometimes there is a week off, so make sure to check the dates. If you are going to miss a class, I encourage you to make it up by sitting in on one of the other classes. It is wonderful to hear other voices and share in supporting their vocal journey. I can also have you Skype in if you are out of town or ill. I want to make sure you get all the time you paid for.
We do some singing together as well. And toward the last classes, I introduce a little bit about song writing and we do some improvised singing where we make up a song. I also touch on harmony, what it is, how to do it, and a bit of ear training. By the end, each student is encouraged to sing a song for the class. Not everyone chooses to, but most do. It's up to you. My non-beginning classes may choose to have a casual recital.
Sometimes I offer "part two" workshop classes for returning students who have a basic understanding of ZingliZh singing techniques and vocal anatomy. This class is for more coaching and individualized technique. I'll help you with whatever you need at the moment. It's like having private lessons with a small group.
Singing voice lessons in Rohnert Park, Sonoma County, near Cotati, Petaluma and Santa Rosa.