From the Sonoma Family Magazine Article - Music Matters
-By Melissa Chianta
...Tamis Baron has spent much of her years as a music teacher helping responsible adults find their inner children. "We make noises and monkey sounds and run around the room like toddlers.
[We] put on wigs and boas. Because you can definitely sing differently when you aren't you," she says of her adult Joy of Singing classes, where
she is part of a teaching team at both the Petaluma and Santa Rosa campuses of the Santa Rosa Junior College.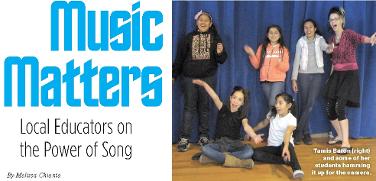 When Santa Rosa's Bellevue Elementary School and Meadow View Elementary School found themselves unexpectedly in need of a music teacher last year, they approached Baron with a job offer. Because she hadn't spent much time teaching kids, she hesitated at first, but then thought, "I'm nine anyway! Why not?"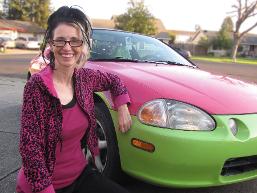 Baron, who drives to school in a hot pink and lime green Honda that matches her Scooby-Doo–themed
office, likes to teach music through theater. "It's more fun. You get to wear a costume," she says.
She believes in getting as much student input as she can. So she uses a purchased script for a plot outline, and then lets the kids create their own characters and dialogue, relying on improvisation to shake out the good ideas. This year her students are working on a play about pirates.
"I have this one girl who loves to [say] Arrrrgh! When I had her come up with her pirate name, she wanted
to be Rosalinda. [So] I said when we introduce the pirates to the stowaway, we're going [to say,] 'This
is Rosalinda. It starts with an Arrrrgh!'" she recounts, laughing.
Her kids are thriving with her unconventional, off-the-cuff teaching style. And the Bellevue principal has been impressed with what Baron has been able to do in a short period of time, she says...