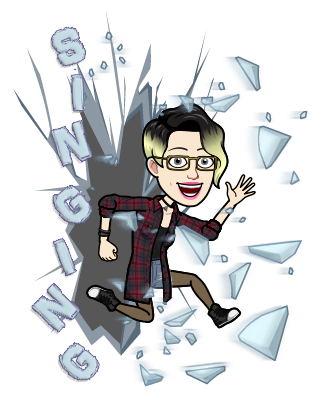 Busting Some Vocal Myths...
Have you heard any of these?
Sing from your diaphragm.
Having a strong diaphragm is very important, so you need to exercise it.
Keep your throat open. Never sing from your throat.
Sing the way you speak.
You'll always sound like you when you sing.
Keep everything the same when you go up and down in pitch, same breath, same resonating space, same volume.
Always open your mouth bigger on higher pitches and modify all high pitched vowels to AH or AW.
If you take your chest voice high you will lose your top notes.
Belting and rasp is unhealthy and will damage your voice.
Singing rock music, you must be very loud and use a lot of force.
Vocal distortion doesn't "use your voice."
If you have a low speaking voice, you have a low singing voice.
You must speak in your singing range to stay healthy.
The number of notes you can hit determines your voice type.
My choir director put me in the Alto section, so I am an Alto and can't sing high.
I was told I am a Baritone/Bass, so I can't sing Tenor notes.
I'm a Soprano, so I should never sing low range songs. I should always sing high. Never in Chest voice.
My voice only works for one genre of music.
Some people were just born great singers and I wasn't one of them.
If I learn how to sing classical style, I can sing any style, because that is the "right" way to sing.
Singers who injure themselves have bad technique.
There are three vocal registers: Chest voice and Head voice. Plus women have a Middle Register. And men have Falsetto.
There is one mixed voice and only one way to find it.
Move your mouth a lot so people can read your lips and understand the words.
Loud singing is good singing. You always need to project and be able to sing without a mic.
Projection/power comes from physical effort.
Good breath support means I need to push a lot of air and squeeze my butt and abs.
If you fix your breathing, everything else is automatically fixed
For long phrases I need to take a bigger breath and "tank up" to be able to sing it without running out of air.
Always breath through your mouth on an inhale.
Being nasal is bad technique and makes high pitches sound squeaky.
Always raise the soft palate.
Clearing your throat is damaging. Don't ever do it.
Honey, warm tea, and lozenges will help lubricate your vocal cords.

You are tone deaf if you can't match pitches.